Walia Associates - Your Choicest ESI PF Consultant in Amritsar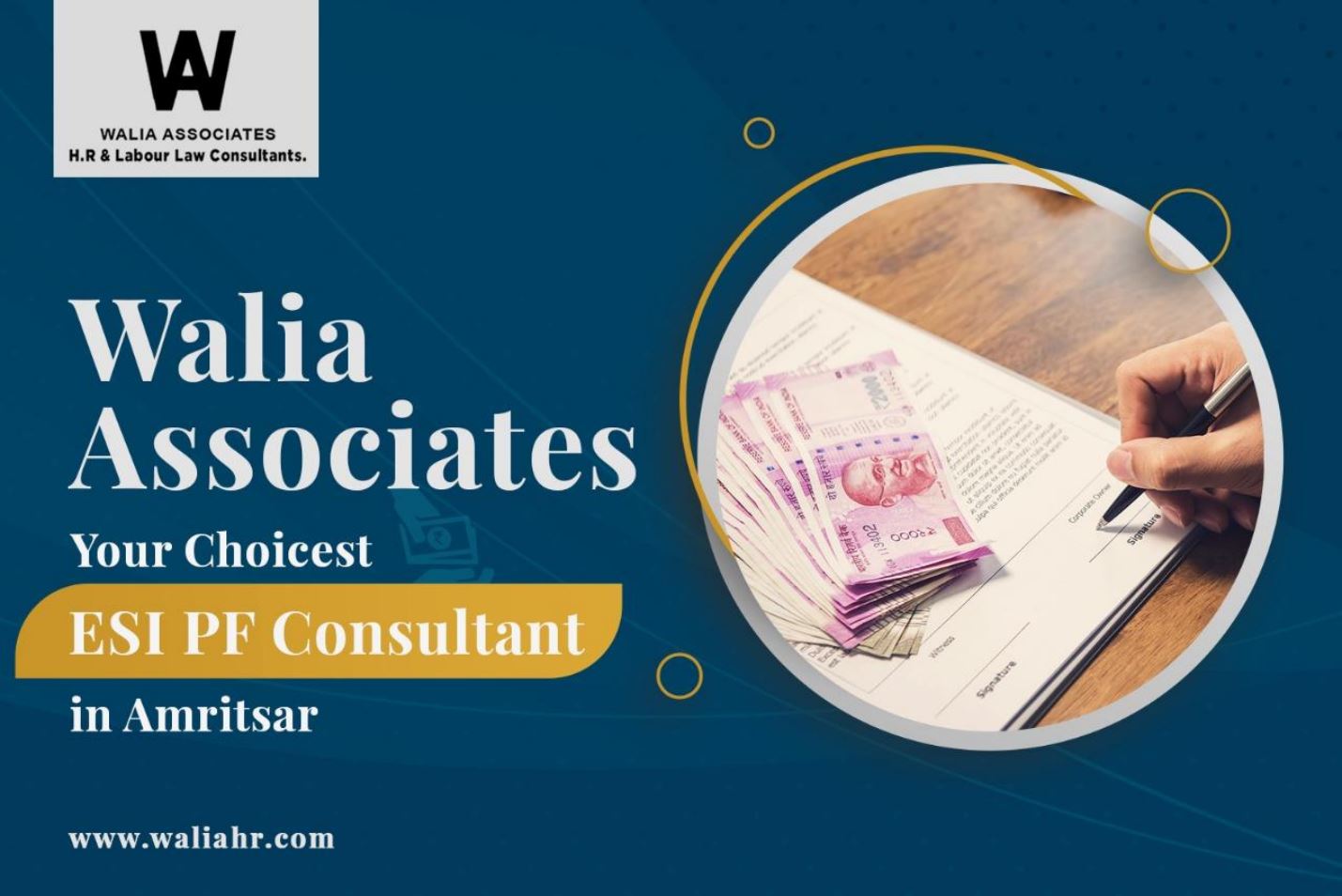 Are you in search of the best
ESI PF Consultant
in Amritsar? But have no idea how you can find an appropriate consultant for your business. How can a consultant assist you under the scheme of ESI & PF? What responsibilities does a consultant have? What services are provided under each scheme? And so forth. Every-time, these questions come to mind and make you struggle to find a pertinent consultant for your business.
But, with the help of Amritsar's top consultant - Walia Associates, you can get an expert consultant and also answers to all of your questions.
Every business has an important asset which is called employees. In a company, an employer always wants his employee's safety. That is why every employee is provided with an ESI & PF scheme. However, employees accept this scheme but have no idea what exactly it is, what is its use and what are its benefits. When and how much deduction may happen in ESI & PF. This is why employers get confused in such situations and could not deliver the service to their employees properly.
At that time, the need for a consultant comes who ensures to help employers in such matters smoothly and resolve any issue if occurs. With a consultant an employer can fulfill the company's legal liabilities as well as their responsibilities.
ESI (Employee State Insurance)
An establishment of Employees' State Insurance Act, 1948 regulates the ESI scheme through Employee State Insurance Corporation. ESI Consultants are those professionals who are experts in the matter or area of Employee State Insurance (ESI) in India. The scheme of ESI is applicable to all the organizations in India which have more than 10 employers in the workplace. The scheme of ESI provides social security advantages or social-economic protections to the workers and their family. This scheme helps employers and their dependents in numerous medical care such as providing monthly pension to those insured workers who suffered from injury, compensation of salary loss which is due to injury or sickness.
What Services an ESI Consultant Provides?
There are a number of services which are mentioned below that come under the scheme of ESI in which an employee can take the benefits:
● ESI Regulations
● ESI Audit
● ESI consultation
● ESI Return Filing
● ESI Hearing Consultation, etc.
The Provident Fund scheme is actually regulated by the government retirement scheme for employees who can donate a part of their pension every month. The scheme is divided into four categories which are Statutory Provident Fund, Recognized Provident Fund, Unrecognized Provident Fund and Public Provident Fund. A PF Consultant plays a vital role in providing the service regarding PF (Provident Fund) matters. A PF Consultant provides the services including payroll. The PF scheme is eligible for those employees whose salary is less than INR 15,000. You can also count it as a rule in this scheme.
What Services a PF Consultant Provides?
There are a number of services which are mentioned below that come under the scheme of EPF in which an employee can take the benefits:
● EPF Regulations
● EPF Audit
● EPF consultation
● EPF Return Filing
● EPF Hearing Consultation, etc.
Many people do not know the meaning of compliance. Compliance means providing up-to-date information to the department after registration. Similarly, when a company accepts the scheme of ESI and PF, it is an employer's duty to represent all the details to the department such as how many employees are working in the company, how much amount is deducted in each employee's salary, deducted amount submitted to the department, and so on.
Reasons to Serve any Organization as an ESI PF Consultant:
● A PF Consultant Helps to Decrease Costs: A good consultant can successfully bisect an employee's salary into different parts which helps you to pay a minimal amount and saves a ton of money.
● A PF Consultant Fulfills Monthly Compliance: A PF Consultant helps an employee to deposit salary in accounts, maintain documents and so forth. Thus, in this way a consultant fulfills monthly compliance.
● A PF Consultant is Prepared for Inspection: This is another reason to hire a PF consultant as a consultant can make a smooth passage between a company and inspectors. The consultant handles all the inspection procedures. In this way, the consultant handles such tasks to make sure all is going well in the company.
● A PF Consultant Decreases HR Time too: In a company, most of the work of a HR is to handle ESI, EPF and Payroll processing of every employee of the company. A consultant helps to handle all these things and saves a lot of time of an HR's work.
Responsibilities of a Consultant of ESI & PF:
● Engage with the client to understand the wants and needs and to agree on a point in which both parties are consented.
● Research, collect data and so forth to know the insights of the company and the motive.
● Analyzing Statistics
● If any issue occurs, resolve them on time.
● Pros & cons of strategies.
● Calculate the problems and assess the solutions.
● Presenting the clients to any recommended improvement.
● Implement new procedures.
Along with being a consultant in EPF & ESI matters, a consultant also provides labour law services to the employees of the company and provides many quality assured legal services to them. So, an ESI PF Labour Law Consultant also becomes a vital part in the matter of employees.
Social Security Benefits:
● Maternity Benefits
● Medical Benefits
● Sickness Benefits
● Dependent Benefits
● Disablement Benefits
● Other Benefits (such as vocational rehabilitation, funeral expenses, free supply of physical aids etc.)
A consultant not only provides legal services of ESI and PF, but also provides HR (Human Resources) services to the company. To become one of the
Top HR Consultants in India
, you need to do the research in depth to know everything that a consultant can offer to his clients. It is such a sensitive matter because a company also runs on this to keep providing the employees benefits from this scheme and contribute some from their salary. In this way, an ESI PF Consultant becomes an important part in any organization to run employment matters.
Frequently Asked Questions (FAQs)
Q1. How to become ESI PF Consultant?
Ans.
To become a consultant for ESI & EPF, you need to have vast practical exposure in statutory labor law compliance. A degree in human resource management, LLB or MBA works with this.
Q2. Are Consultants Eligible for PF?
Ans.
The consultants are not empowered to any gratuity, bonus, provident fund or pension.
Q3. How many employees are needed for PF?
Ans.
At least 20 or more than 20 employees are needed for PF. However, some organizations who have fewer than 20 employees can also register voluntarily.
Q4. What is the difference between a consultant or an employee?
Ans.
The only difference between a consultant or an employee is that the latter is not eligible to pay advanced tax only if he has no other income other than salary. Whereas the former needs to pay advance taxes.
Q5. What expenses can a consultant claim?
Ans.
For PF, many expenses a consultant can claim such as vehicle fuel expenses, equipment maintenance, telephone & interest bill, car loan interest, cell phone cost, and so on.