How To Find The Right EPF ESI Consultant For Your Business?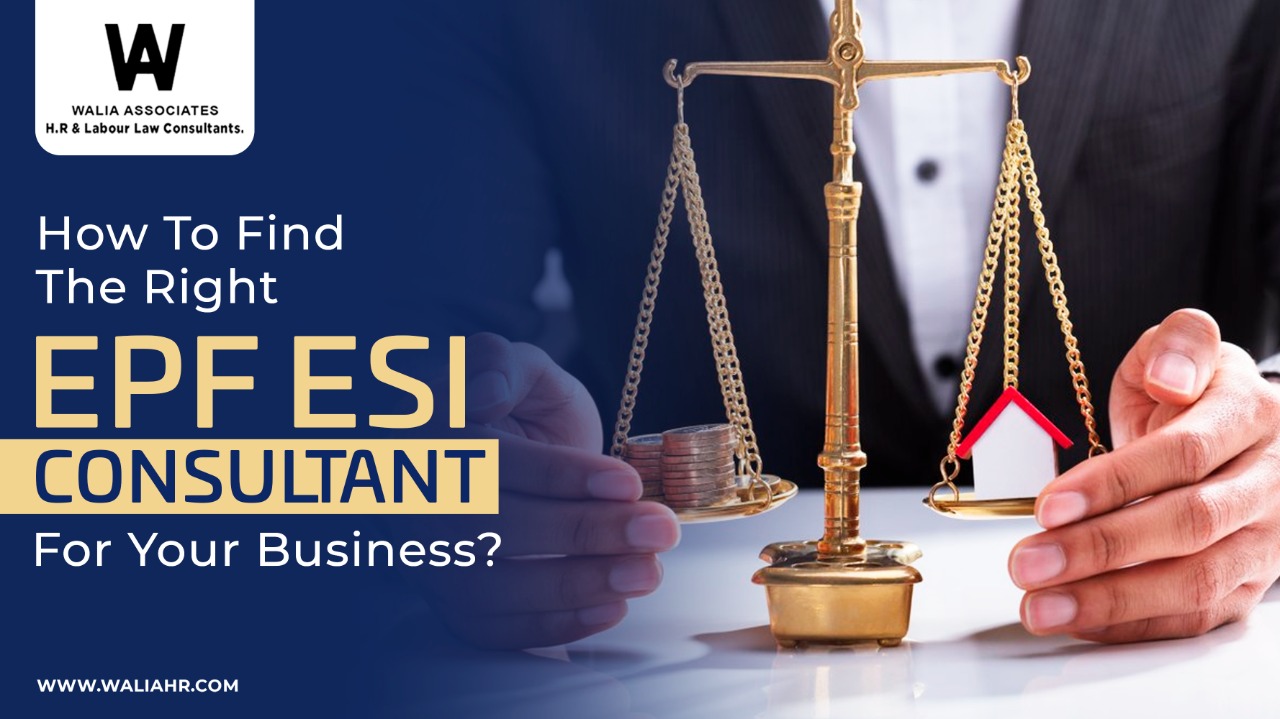 If you are looking for a reputed EPF or EPF ESI consultant in India, we can help as we are the best consultants for enrollment of ESI (Employee State Insurance) and PF (Provident Fund) in Amritsar, Punjab. Also, if you want to provide better returns on your employee's ESI and EPF, then you must opt for our ESI PF consultant's services.
Our team helps clients get the most sought-after PF consultancy services including enrollment, maintaining records, and counselling on acts such as ESI and PF.
Over half of the HR team's job is handling the processing of employees' ESI, EPF, and salary. And, at Walia Associates, we serve over 50 companies in India and help them with their payroll processing needs, as well as with consulting on EPF.
Who is a PF ESIC consultant?
The Provident Fund Employees' State Insurance (PF ESI) Consultant is a new role that has been created by the Employees' Provident Fund Organisation (EPFO) to provide guidance and support to EPFO members on the best way to utilise their Provident Fund and Employees' State Insurance benefits.
The PF ESI Consultant will also be responsible for supporting the implementation of the PF ESI scheme, as well as conducting awareness programmes and workshops on the scheme.
If you are an EPFO member and would like to learn more about how to utilise your Provident Fund and Employees' State Insurance benefits, then you should contact a PF ESI Consultant today!
PF ESI Consultant provides information and resources for businesses on the subject of employee stock ownership plans (ESOPs). He/she acts as a resource for business owners and HR professionals who are considering or implementing an ESOP.
PF ESI Consultant provides information on the advantages and disadvantages of ESOPs, the tax benefits of ESOPs, and the legal and regulatory requirements for implementing an ESOP. The website also provides resources on how to establish and administer an ESOP.

What does a PF ESIC consultant Do?
There are many reasons why you may need a PF ESI consultant. As an employer, you may be required to provide your employees with certain benefits, such as health insurance. A consultant can help you understand the law and determine the best way to provide these benefits to your employees.

A consultant can also help you save money on your PF ESI contributions. By understanding the law and how it works, a consultant can help you minimize your contributions and maximize your savings.
In addition, a consultant can help you stay compliant with the law. By keeping up with the latest changes in the law, a consultant can help you ensure that you are always complying with the requirements.
Benefits of Engaging an EPF ESI Consultant in Your Business
Familiarizes with the two Schemes and their Benefits: PF ESI consultants work with employers and employees to help them understand the benefits that they could be getting out of the two schemes.




Helps in Understanding the Payable Taxes: They also help employers understand what amount of tax they would need to pay.




Opening the PF and ESI Accounts of the Employees: It is a company's responsibility to provide employees with PF accounts and the ESI policies, either through an ESI PF Consultant or through its employees. Thus, every firm needs a knowledgeable advisor for setting up the employee's PF accounts and ESI accounts that last until the time of drawdown and other associated services.




Easier Termination: In case, if no more services are required from a consultant, then the termination of a consultant is easier compared to the termination of the employee.

Smooth Hiring of a Consultant: Hiring a permanent employee takes longer time frames compared with consulting.

How to Find the Right PF ESIC Consultant for Your Business
If you identify your business needs, explore your options, and vet candidates thoroughly, you will find an excellent consultant who has the skills to help your business reach its next level.
The process of finding the right PF ESIC consultant for your business can be daunting. There are many factors to consider, such as cost, experience, and expertise. Here are a few tips to help you find the right consultant for your business:
Identify Your Goals: Be clear about your goals. You can ask yourself what you are hoping to achieve by working with a consultant.




Research: Do your research. Ask for recommendations from businesses in your industry, and read online reviews. Because, with so many options available, it's important to do your research to find the best fit for your needs.




Communicability: Make sure you're comfortable with the consultant. In addition to being an expert in their field, you should also feel like you can trust and communicate with the consultant.




Ask for Proposals: Get proposals from several consultants. Once you've narrowed down your options, request proposals from each of the finalists.




Services Provided: Check for the services they offer. Review if they are relevant to the ones you need for your business.




Familiarity with Law and Regulations: You will also want to make sure that the consultant you choose is familiar with the laws and regulations surrounding PF ESIC in your country.




Know About their Recruitment Process: Before you decide to work with an HR consultant, you should be aware of their enrollment process and the time required for getting hired at the firm.




Experience with Consultants & Agencies: When choosing an HR consultancy, take into account factors like the experience of the recruiter, how long has the firm been providing services, and whether or not they have expertise in recruiting for your industry.




Cost: Cost of the fee is another factor you must not miss asking a consultant for their services



By following these sure-shot tips, you can be sure to find the right PF ESIC consultant for your business.
Why Choose Us?
We, at Walia Associates, have been serving various companies in India since our establishment in 2018 and help them with their salary processing needs and ESI consulting. Here are a few reasons to choose us over the others:
We are connected to various consultants on PF, ESI, and labour laws all across India.




Mr. Harpreet Singh Walia at Walia Associates Services has been engaged in outsourcing/consulting activities for all the payroll and legal requirements having more than 15+ years of personal experience in this field and has been successful at running a business.

Being one of the best ESI and PF consultants in India, we have an amazing team that handles all of the work. That is the reason we are considered to be the best ESI PF filing consultants.




We know and understand the pain involved with having to submit the monthly compliances on the employee's ESI/EPF accounts, which is why we have distilled a few essential virtues you must be looking for in an ESI PF consultant.




Our staffing experts, recruitment teams, and labour law consultants can assist your organization in growing & succeeding.




As the best PF consultants in India, we ensure the timely filing of returns in your employee's accounts. Walia Associates is committed to providing a satisfying experience for its clients, delivering timely and high-quality results, with a price tag that is worth it.




Ranging from human resources, and payroll, to other consulting for employees and employers, we are experts across the board.




We have a good track record in maintaining appropriate communication with Departments of Factories, Labor, ESI, PF, professional tax, and Shop Establishment Act, both state and central governments.



Besides all of these, we have figured out the easiest way to tackle the issue of maintaining statutory records under various labour laws viz. Employees Provident Fund and Miscellaneous Provisions Act, 1952 (EPF Act), Employees State Insurance Act (ESI Act), Factories Act, 1948. Paying wages under the Minimum Wages Act, Bonus Act and various other Acts, we are well known as ESI PF Consultants.
Wrapping Things Up
If you are an employer, an EPF ESI consultant can be a valuable resource. By understanding the law and how to properly provide benefits to your employees, a consultant can help you save money and stay compliant.
The best PF ESI Consultant in India can provide you with custom-made solutions so that your company can select the required services according to your requirements.
Also, if you want to provide better returns on your employees with the best returns on their ESI and PF, then, you must opt for the services of an expert ESI PF consultant.

Frequently Asked Questions (FAQs)
Q: What are EPF and ESI?
A: Understanding the EPF and ESI Schemes:
EPF: An employee provident fund (PF) account is a retirement benefits scheme for salaried employees. The employer contributes a certain percentage of the employee's salary towards this account, and the employee can make voluntary contributions as well. The employee is eligible to receive the PF balance as a lump sum on retirement.
ESI: ESI is a medical insurance program which benefits employees through a variety of health plans. ESI takes care of the health and cash benefits for employees and their families. ESI is managed by Employees State Insurance Corporation, state-chartered, social insurance, and a worker welfare entity.
Q: Are ESI and PF the Same?
A: Although both the schemes are based on contributory funds from employers as well as employees, the only difference is that ESI is for healthcare services and on the other hand, EPF focuses on post Retirement Income and Benefits.
Q: What is an ESI consultant?
A: ESI consultants are subject-matter experts in the area of Employee State Insurance in India. They are aware of all the ESI regulations.
Q: What is the Work of PF Consultants?
A: A pf consultant is concerned with all the payroll and the other related services of a company complying with the appropriate laws and acts of a country.
Q: What are the Benefits of PF and ESI?
A: Enrolling on both schemes is varied. Wherein, ESI is focused on healthcare benefits for the insured person and their dependents, the PF provides you with the pension scheme, income tax exemption, partial fund withdrawals, and loans against PF, to name a few. You can consult the ESI PF Consultant like Mr. Harpreet Singh Walia to understand both the schemes in a better way and seek the expert services.